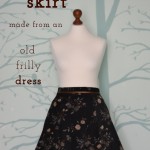 Do you know this problem? You have an old dress that is still very beautiful but is just not your style anymore? And you can't get rid of it because it holds dear memories? I know this very well. This project is a transformation of an old frilly dress that held special memories but was just not my style anymore to a clean cut circle skirt I like better and will hopefully be up for new memories to make.
Also, in this post, I'll be sharing my very secret smart girl trick on how to easily get a clean hem on a circle skirt.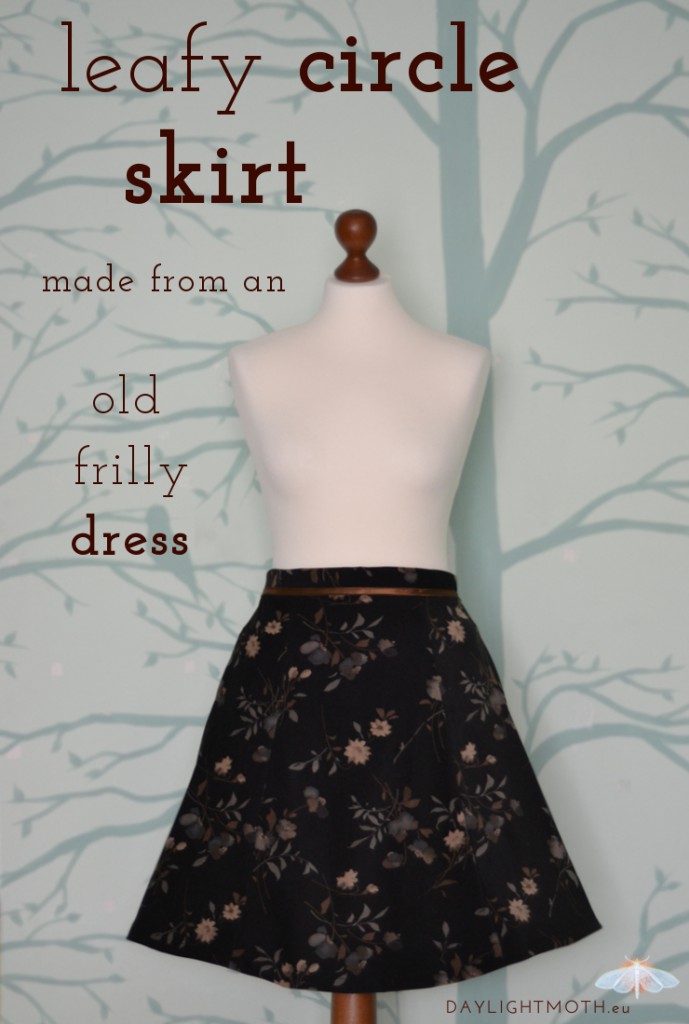 Getting rid of emotional baggage and creating something new
It's very hard for me to get rid of old clothing – especially if the garment has a special meaning to me. I had an old dress that I had sown for a trip to Hamburg. The trip was a gift from my parents for finishing school. I traveled there with a friend and although we didn't have a lot of money to spend we had a great time viewing the city and the harbor, going for a walk in the city park and visiting lots of museums. To me this trip was like a goodbye to school and preparing for a new stage of life: university.
But now, about eight years later, my style has changed and the old frilly dress does just not fit anymore with what I currently like to wear. But I still like the leafy fabric. So I decided to transform the old dress into something new. I like to wear skirts better than wearing dresses because it gives me more freedom in combining my clothes. I also don't like such a dark fabric so near to my face. (My style of dressing was radically different back then.) That's why I decided to change the dress into a skirt. Since the fabric with the leaves is already very playful, I wanted to build a contrast with a clean and elegant cut – maintaining the circle shape but taking away all the frill.
Small changes to transform a frilly dress into a clean skirt
I made one cut at the waist. (You might want to rip out the zipper beforehand or else you might cut through the zipper like I did.) Then I took away the bottom border. This left me with the basic framework of the skirt. I took another strip from the waist to form a waistband. Of course, the seams on the skirt that remained from the dress didn't really match with the seams at the waistband. To hide this fact I set a contrasting bias binding between those two parts. I reset the zipper and already – my skirt was finished!

How to really easily hem a circle skirt
The whole skirt was done in only about two hours. The process was so fast because I used my special secret tip for nice and clean looking circle skirt hems. All you need is a bias binding. Here's a short explanation of how to do it in an infographic:

Sew the bias binding onto the skirt – right side on right side. As you can see, I didn't even pin it down.
Sew on the inside. This will be even easier if you iron your seam after step 1. Try to sew a straight line in even stitches as those will show on the outside of the skirt.
You could iron it after this step, too, to achieve a clean looking finish. Voilà – enjoy your clean, not wavy, not creased hem!
Making new memories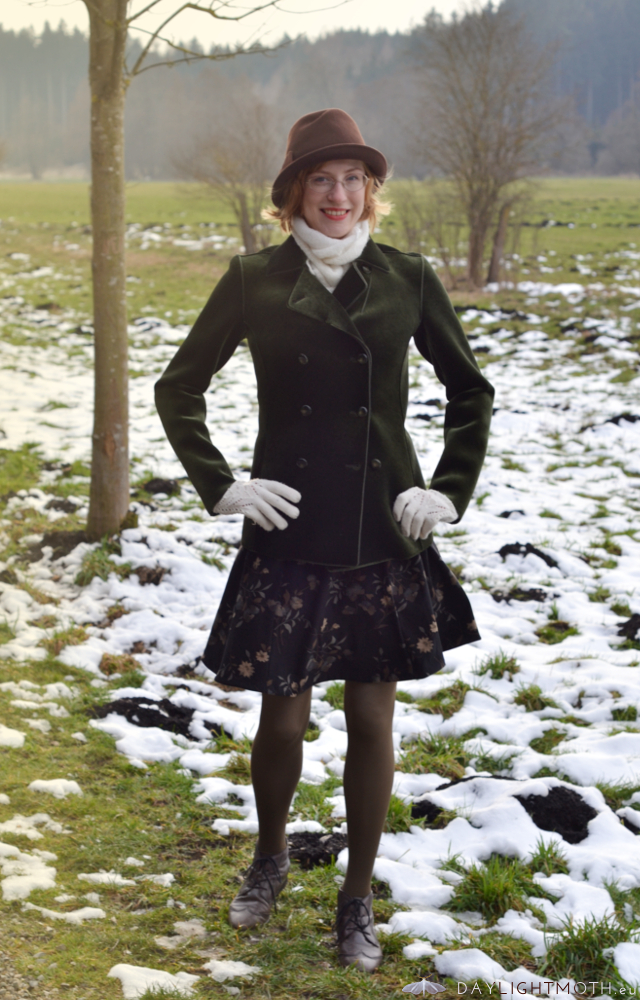 I'm really happy with this skirt. I'm happy I managed to give it a second life in my present wardrobe and I'm already looking forward to making new meaningful memories with it. How about you? Have you ever had an old piece you could not let go because of memories? Have you altered it? Would you like to?